Instructional Design – Articulate Rise 360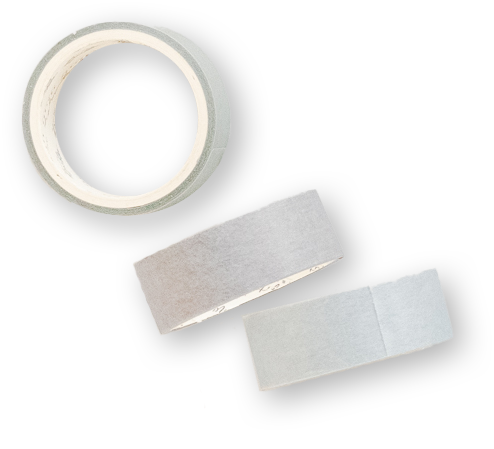 Audience
Teachers and Principals within the school district in South Florida (240 representatives).
Responsibilities
Instructional Design, Action Mapping (Needs Analysis), Storyboarding, Visual Design, eLearning Development, Evaluation
Tools Used
Articulate Rise 360, Canva, Miro, Screencast-o-matic, Padlet, Microsoft 365 Suite
KPI
Grant applications will increase by 20% by October 1st as applicants are more confident in the process.
My design plan is structured around a grant program that we offer in my department for educators, the Teacher Directed Improvement Fund (TDIF). The reason I chose this to create a training is because I am the recently promoted project manager for this grant program in my department. While going through the process of learning the program, I realized that there were many inconsistencies in the program, and I wanted to develop a training to eliminate confusion and inquiries flowing into the department daily.
Target Audience and Needs Analysis
The target audience for this training is qualified Teachers and Principals within the school district in South Florida. The years of experience range from 3 years to 30+ years. There are over 15,000 teachers and principals in Broward County (BCPS). One teacher representative per school (240 schools) selected within Curriculum Council, which meets once per month. This group already contains one representative per school that has the expectations of sharing knowledge with their staff.

Based on recent survey feedback from TDIF Applicants, 70% do not fully understand the reimbursement process. This is a grant program that has been available to teachers for over 10 years, and receives 1.7 million dollars in funding per year. Less than 60% of this funding, on average, is utilized on a yearly basis.
Learner Analysis
Non-Linear Navigation: I have decided to create this e-Learning training utilizing non-linear navigation. A non-linear approach is more suitable for learners to be in control of selecting tasks catering to their skills and knowledge level (Rimmer, 2020). As not all learners will be on the same level coming into the training, this is essential. I want my course to have active involvement and develop learner confidence in selecting tasks to correspond with their creative abilities.
Interactive Storytelling: To enhance learner engagement and increase learner retention, I plan on embedding interactive storytelling as a piece of my e-Learning. By analyzing examples of interactive stories, (Baldwin, S., & Ching, Y.-H. 2017) identified five features of interactive storytelling: dynamic presentation, data visualization, multisensory media, interactivity, and narration. Since students learn best by doing, weaving in interactive storytelling with real-world examples will be a way to directly engage them.
Learning Styles: Staying cognizant of different learning styles and incorporating both auditory and visual aspects to a training can also assist with working memory and prevent cognitive overload (Halarewich, 2016). While creating my training, I will be cognizant of incorporating both auditory and visual aspects to help prevent cognitive overload and keep learner interest.
Learner Retention: To increase learner retention specifically, I will keep in mind the "rule of three". In my design plan, there are three learning objectives, and while designing slides I will keep the slides to three bullet points.
Design Plan
Goal: In this course, learners will gain an understanding of the TDIF application process. By the end of this course, 100% of qualified teachers will be able to submit a TDIF grant application for committee review and approval.
I broke my mind-map into 7 major components: content, organization, screenshots, media, graphics, color scheme, and warm-up/closing activities. This helped me organize my thoughts and pull together the graphics that I created to include within the training.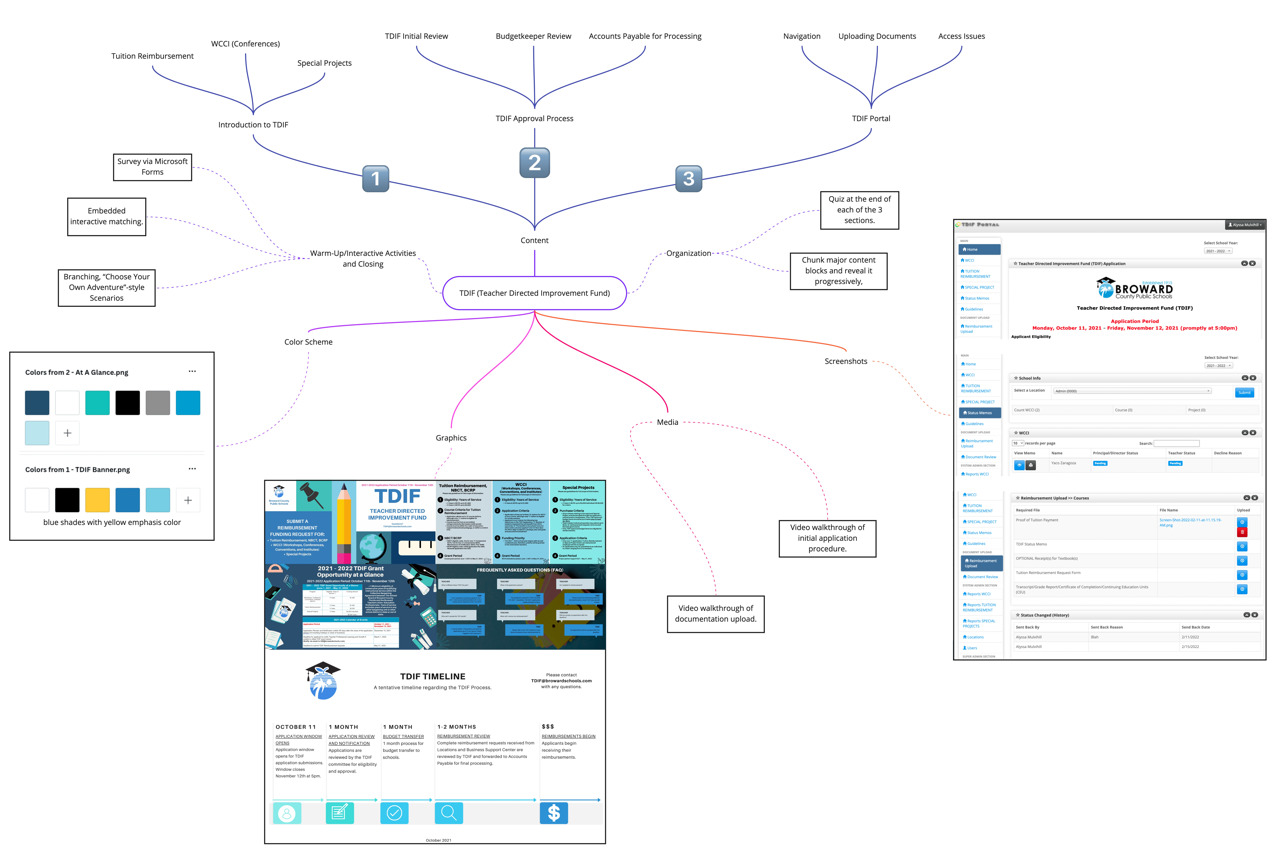 Design Plan
Prior Knowledge
The applicant needs to have prior knowledge of District and State requirements for conferences (found in their contract) in order to accomplish the training outcomes.
Learning Outcomes
Goal: In this course, learners will gain an understanding of the TDIF application process. By the end of this course, 100% of qualified teachers will be able to submit a TDIF grant application for committee review and approval.

At the end of this module, 100% of learners will be able to
Understand the difference between the three different TDIF programs.
Draft a TDIF application.
Understand the involved district departments in the process and the timeline of events.
Learning Objectives
The learner will…
1. Utilize a graphic organizer (e.g. Venn diagram, t-chart, etc.) to compare the three different grant programs and guidelines.
2. Use the TDIF portal to submit a draft of each of the three grant program applications.
3. Create a timeline of events that occur during the TDIF process.
Instructional Design Model
The model that I used to guide my design plan is the ADDIE Model/Framework. ADDIE: Analyze, Design, Develop, Implement, and Evaluate. Guided by the ADDIE model, I iterated on each step of my process until I was confident with the look, feel, and content of the learning experience.
Assessment Strategies
Formative assessment strategies:
Graphic Organizer
Draft TDIF Application (3)
Timeline
Quick Knowledge Checks
Summative assessment strategies:
The summative assessment will be an end-of-module quiz to measure the learning that occurred. The performance level should be a 70% or higher to achieve subject-level mastery. The criteria will be directly related to the learning objectives stated prior.
Evaluation
Feedback will be collected via Microsoft Forms survey at the conclusion of the training. The survey will be written using Guskey's 5 Levels of Professional Development. Based on responses to the survey questions, the course will be modified as needed.
Keep it Learner-Centered
I had various creative ideas throughout the process that I wanted to implement. However, before trying each concept, I asked myself questions like, "will this help keep the learner engaged in the scenario?" and, "how does this change enhance the learning experience?" By considering, I ensured that all of my decisions were made for the target audience and not for myself.
Detailed Planning and Problem Solving
Planning my course required that I consider all the activities and learning components that I will include in it. Creating a detailed mind map and action planning enabled me to cover all the bases of training activities and learning components. During the building and planning process I ran into road blocks. Problem-solving by research and trial and error was beneficial for honing my skills.
Utilizing Feedback
Looking through feedback helped me focus on the learner's needs and kept me focused on delivering an exceptional learning experience for them. Your community or peers can often provide a different perspective you may not have considered.
Evaluation
I am a teacher with 34 years in SBBC. I want to take this opportunity to recognize Alyssa (TDIF specialist) for her incredible work ethic, training materials, efficiency and caring disposition. She has been patient and willing to help me understand the process. Her training has directed me and informed me in the most efficient way possible.
Increase in teacher participation.

90%

90%

Teachers successfully reimbursed.

99%

99%
Experience the Microlearning Group of adult learners with various roles - professional development specialists (such as myself), staff developers, coordinators, and induction coaches. Learners share a common goal - teacher preparation and development. Improve the...